Release - Zombie Plague 5.0

Release - Language - English / Other

Size - About 400 MBY

Format - Zip/Rar/Exec./Other

Scan by a Antivirus - Clean/No Virus

Files -1

Readme.Txt/NFO -No Info About
Have 1 file to change Russian Language to English
Read More to get the download Links


+ Download Options
http://www.wupload.com/file/59466283/cstrike.rar
http://www.wupload.com/file/59466277/English_language.rar
http://www.filesonic.com/file/1463705461/cstrike.rar
http://www.filesonic.com/file/1463695221/English_language.rar
http://sharecash.org/download.php?file=2142338
+ Images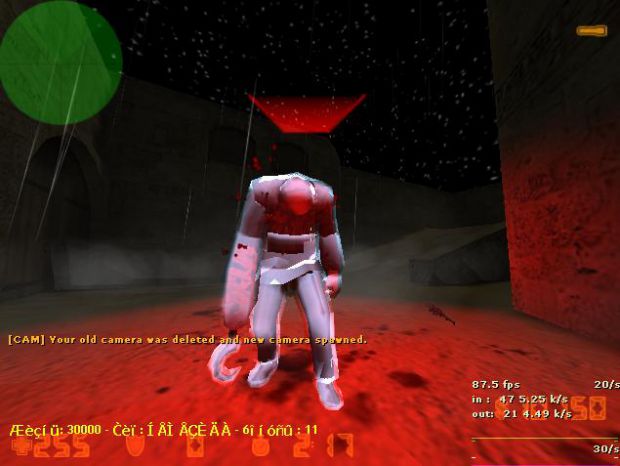 + Extra Info / Suport / Credits / Souce Link

Zombie Plague is a Counter-Strike server side modification, developed as an AMX Mod X plugin, which completely revamps the gameplay, turning the game into an intense "Humans vs Zombies" survival experience.
Even though it's strongly based on the classic zombie infection mods, it takes the concept to a new level by introducing:

New Gameplay Modes: Nemesis, Survivor, Multi Infection, Swarm, Plague, Assasin, Armageddon, Raptor, Sniper
94 Zombie Classes
Ammo Packs: awarded to skilled players, can be exchanged for goods
56 Extra Items System:
Custom Grenades: Napalms, Frost Nades, Flares, and Infection Bombs
Deathmatch Mode: where zombies or humans can continually respawn
Admin Menus: to easily perform the included console commands
Special Effects: from the HL Engine, such as dynamic lighting and fog
New version of Podbot
New version of Zbot
There is plenty of customization as well, which enables you to create several different styles of gameplay. You can:

Set zombies and humans' health, speed, models, rewards, and more
Toggle unlimited ammo and adjustable knockback for weapons
Separately enable and customize the new gameplay modes to your liking
Change overall map lighting (lightnings available for the dark settings)
Set different colors and sizes for flashlight and nightvision
Toggle leap (long jumping) and pain shock free (no damage slowdowns)
Toggle various infection effects, such as sparks and screen shakes
Enable random spawning (CSDM-spawn friendly)
Replace sounds or add some background themes
And many more...
"Why are you making server, without know nothing about making servers. :D OK I will show you.
1. Go to Counter-Strike 1.6
2. Go to folder cstrike
3. Go to folder addons
4. Go to folder configs
5. Go to file users
6. And on the bottom have text, change the name write password and insert what flags do you want. :]"
http://www.moddb.com/mods/zombie-plague